Are you someone who is interested in the business of chilli farming or planning to start the cultivation of chilli? Are you someone who finds Chilli farming fascinating? Do you want to know about Chilli farming and the process of growth? We will introduce you to every vital aspect of Chilli cultivation. Let's directly jump into the article to know everything.
Table of Contents
Introduction to Chilli Farming
Various varieties of Chilli across the world
Suitable climate conditions for chilli farming
Soil preparation for Chilli cultivation
Reasons behind dying of chilli flowers
Unpredictable temperature switch
Prevention and cure of blossom drop in Chilli plants.
Introduction to Chilli Farming
Chilli is one of the essential spices grown in India, China, Peru, Pakistan, Mexico, Spain, and many other countries. Chilli originated from South America and was bought by the Portuguese at the end of the 15th century. It belongs to the Solanaceae family and is used in the preparation of multiple cuisines. There is a wide variety of Chillies such as dried Chillies, red Chillies, green chillies, etc.
The most reflective characteristic of Chilli is its colour and spice, pungency, and presence of capsanthin pigment. The commercial cultivation of chilli is pretty profitable for farmers.
It's the official spicing agent in food. India is the largest consumer and producer of Chilli globally. Greenhouses, Open fields, pots, containers, etc., are places where Chilli can be grown with suitable soil preparation and climatic conditions.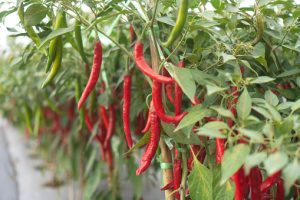 Popular types of Chillies found in India are given in the following table with the region of cultivation and flavor:
| | | |
| --- | --- | --- |
| Names of Chillies | Mostly cultivated in | Flavor |
| Bhut Jolokia | North-east India | World's hottest Chilli |
| Naga Chilli / Naga Morich | Nagaland and Manipur | Amonth world's top ten hottest chillies |
| Kashmiri Chillies | Kashmir | Less pungent and known for its colour |
| Guntur Chilli | Andhra Pradesh and Madhya Pradesh | Hot and average pungency |
| Kanthari Chilli | Kerala | Hot and highly pungent |
| Byadagi Chilli | Karnataka | Deep red colour with mild pungency |
| Mundu Chilli | Tamil nadu | Fat, round, dark red and pungent |
| Sannam Chilli | Andra Pradesh and Madhya Pradesh | Hot and medium pungency |
| Jwala Chilli | Gujarat | Highly pungent |
Famous hybrid varieties of Chilli in India are the following:
| | | | | |
| --- | --- | --- | --- | --- |
| MI-1 | KA2 | CO4 | PLR1 | NS 1072 |
| MI-2 | Arunalu | CO2 | KKM | NS 1701 |
| MI-HOT | G-2 | PMK 1 | NS230 | VNR-212-7 |
| K1 | G-3 | PKM 1 | NS238 | Hybrid Chilli red devil |
| K2 | G-4 | NS | NS 1101 F1 | Hybrid Chilli Agni |
| Hybrid Chilli Sachin | Kashmiri double Chilli | Kiran | Phule Mukta | Phule Jyoti |
| Aparsana | Musalwadi | Suryamukhi | S-1182 of Punjab | Jwala |
Suitable climate conditions for chilli farming
Chilli requires a combination of climates to grow, which combines humid, dry, and warm weather. Dry weather is considered the best for fruit maturity. Around the worth weeks of Chilli farming, it needs humid and warm weather.
A temperature range of 20 to 25℃ suits best for green chilli growth. If the temperature is 37℃ or higher, fruit development is affected. Heavy rainfall leads to rotting of plants.
Low moisture increases transpiration during flowering resulting in shedding of buds and flowers.Unpredictable weather conditions can cause deflowering or minimal Chilli fruit formation.
Soil preparation for Chilli cultivation
Black soil is the perfect soil for Chilli farming. Black is tested and proven to be the moistest soil and implements the best growth of Chilli. Crops like Chilli need organic compounds for best development and well-drained sandy loam texture soil.
Black soil fulfils all requirements. If soil is well-drained, deltaic and are well-irrigated, then chillies can be grown in such soils. Chilli is produced in different geographical regions of India with the proper preparation of soil. Like in Uttrakhand, the soil is mixed with gravel to sow the Chilli seed and attain the best produce.
Reasons behind dying of chilli flowers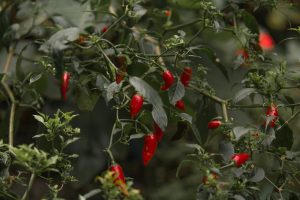 Unpredictable temperature switc
h
The combination of warm, dry, and humid temperatures allows the Chilli flower to grow into fresh Chilli with authentic taste and colour. Fluctuation in temperature may cause deflowering and improper growth.
Pollination issues
Bees and butterflies are the active pollinators in Chilli farming. The correct population of bees and butterflies promotes healthy flowering. On the other hand, cotton balls and a small paintbrush are also used for hand pollination to fulfil the requirement.
Nitrogen availability
Nitrogen is an excellent nutrient that acts as a major component in the growth of Chilli flowers. Nitrogen deficient soil can cause stunted chilli plants, while excess nitrogen produces lush foliage at the cost of fruit and blooms.
Overwatering or low watering
Make sure to water the plants at a uniform interval. Water the Chilli plants once a week with 1 to 2 inches and let them incorporate into the soil. Always analyse the soil moisture before watering to determine the right amount of water. Excess water or less water can cause deflowering. The real aim is to keep the soil moist and not make it soggy.
Spacing between plants
There must be a proper gap between Chilli plants to promote air circulation. Not keep too much gap or too much space; the spacing must be uniform for better growth and development of the plants.
Prevention and cure of blossom drop in Chilli plants
Temperature
To prevent blossom drop due to temperature, plant the chilli plants where they get bright sunlight in the morning and shaded from the intense sunlight in the afternoon if grown outdoors. If it is grown indoors, just move them to a shaded place when the sunlight is falling.
Humidity
If your plants' problem is low humidity then mist your Chilli plants with water twice a day, but avoid doing it in areas with high humidity or when fungal diseases are present.
Nitrogen levels
Adding a good amount of compost before planting chillies is the first step to keep the nitrogen at a proper level. If your chilli plants need more nitrogen, then you can supply fertiliser solutions to them.
FAQs on Chilli Farming and flower dropping
Q1. What are the health benefits of Chilli?
Ans. Here are the benefits of Chilli:-
Chilli is an excellent source of B-complex group iron and cures cancer.

Chilli promotes immunity and is best for prostate health.

Chilli contains zero calories, so it helps in the weight management diet.

Chilli fixes the high blood sugar level.
Q2. What is the most suitable month for Chilli farming?
Ans. July and August is the best time for Chilli cultivation in the Kharif season. On the other hand, October and November are best for sowing in the Rabi season.
Q3. Explain the Chilli plant growing stages in brief?
Ans. The Chilli plant growing stages start with the opening of petals of the Chilli plant and develop into several tiny buds. Fruits began to appear, pollination started, and the flower became fruit in 23 weeks. After two weeks, the first Chilli appears in every plant, and fruits mature. It takes 25 weeks to mature the chillies in one Chilli cultivation.
Q4. How to speed up the yield of Chilli farming?
Ans. Here is a tip to speed up the growth of Chilli cultivation. Take an old newspaper, cut it into pieces and mix the small paper into the soil of the Chilli plant. Now cover the area of soil where paper is mixed and follow the regular maintenance routine for healthy production. Repeat the process once every two weeks.
Note: The information contained herein is for informational purposes only. Nothing herein shall be construed to be financial or legal advice. Pesticides are a considerable risk of loss in crops and viewers are advised to do their own research before making any decisions.