Do you want to grow a high-yield bottle gourd? We are here to help you with the best techniques to follow at each step from choosing the right type of soil to the right way to harvest.
Table of Contents
A Guide for Bottle Gourd Farming
Introduction to Bottle gourd seeds
Stages of bottle gourd seeds growth
How & when to harvest the bottle gourd
FAQs
What are the different varieties of bottle gourd seeds?

How to control weed in the organic bottle gourd seeds?

What is the seed rate and spacing in bottle gourd seeds?
Introduction to Bottle gourd
Bottle gourd is an annual, popular, and nutritious vegetable in India and worldwide. 
Lagenaria sicerariais the scientific name and belongs to the cucumber family Cucurbitaceae. The most popular vegetable names are Lauki, dudi, and calabash, and the English name is Bottle gourd.
The unique name is derived from the bottle-kind shape of the vegetable packed with nutrients and 92% water. Bottle gourd seeds germinate with minimum care. Uttar Pradesh, Haryana, Bihar, and Madhya Pradesh are the states which produce this vegetable.
It grows in a high-temperature climate. Organic matters, aged compost, and manure are the best fertilizers to produce a high yield.
Let's read about the growth phase aspects of bottle gourd seeds.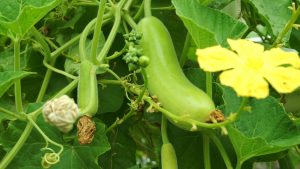 Soil & Climate
Early growth of the bottle gourd requires a minimum temperature of 180C, while ideal temps are between 24 and 270C. Although the crop can withstand low temperatures, extremely cold temperatures will stunt growth and cause the plant to die from frost. The plants can tolerate many different levels of rainfall. Although the bottle gourd may grow in a variety of soil types, it favours a sandy loam soil that drains well and is rich in organic matter. Although 6.0 to 6.7 is the ideal range for soil pH, plants may survive alkaline soils up to 8.0.
Location and land preparation
Leaf mold, manure, and compost are some organic matter that boosts the soil's structure. Fertile, well-drained, loamy soil is the ideal soil for the cultivation of organic bottle gourd seeds. It grows best in between the summer- rainy season. It needs sufficient irrigation, and an area with water scarcity is unsuitable for bottle gourd cultivation.
Finely ploughed land like furrow and tilth with 2-3 metres distancing is the beginning of land preparation. Apply the FYM before planting with the distance between 1.0-1.5 m between each bottle gourd seeds. Soak the seeds in 600 ppm succinic acid for 12 hours or use water for soaking for 12-24 hours. It boosts the process of seed germination.
Planting process
Bottle gourd seeds are sown directly into small pits or soaked in water or succinic acid for 12-24 hours for early germination. 

Usually, germination takes 6-7 days after planting.

To grow big fruits, mix potting soil, vermicompost, and coco peat equally to retain growth and moisture.

Build strong trellis support to the trail of the plant to grow maximum and spread. Keep the plant open to the sun.

Just after pollination, female flowers develop small gourds around them.

Bottle gourd seeds require 1-inch water weekly to keep the soil moist and loamy. Start watering in the initial stage to avoid diseases by sprinkling or furrowing to avoid direct pressure.

Pipes, wires, and bamboo are the best-proven support for trellis with a height of 5-6 feet. 

Bottle gourd farming requires less cost and produces fresh produce in a short period.
Stages of bottle gourd seeds growth
Here is the sequence of growing stages in bottle gourd cultivation:
Sprouting set 6-8 days after sowing, the seeds germinate and visualize in sprout form.

Cotyledons are the rise of the first two fake leaves, which tear down automatically and begin the natural growth.

First leaves appear at the end of the second week over the Cotyledons.

The seedling stage is the growth of seedlings from the second week and forming small plants on beds.

Thinning is cutting weak seedlings and keeping only one in the spot. Cut the weak with scissors after the second week. 
Bottle gourd seeds are sown 1-2 cm in depth. The perfect sowing time for bottle gourd seeds is March-February, July-June, and December-November months of the year to expect the best produce.
Irrigation
Furrow irrigation method is best to water the right amount in the right way to the bottle gourd seeds. The irrigation session for the bottle gourd seeds is pretty straightforward. After sowing, the seeds require water in intervals of 3-4 days and alternative days during flowering & fruiting. 
Water the bottle gourd seeds at least 1 inch every week to keep it moist and enact. The practice drainage system in the rain for proper development and survival of initial and near harvest phase of bottle gourd seeds.
Manure
Mix good quality manure, vermicompost, FYM, cow dung, or liquid fertilizers in the 2:1 ratio. It will indulge more in the soil and nourish the bottle-gourd seeds. 
Apply NPK at 15:15:15, around one tablespoon, and mix evenly in every single plant with vermicompost to get that extra boost.
How & When to harvest the bottle gourd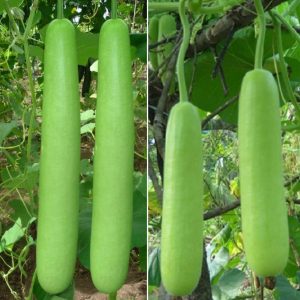 When the green colour of the bottle gourd turns pale to yellow, it's the right time to harvest. Tender and medium plant crops are harvested according to the market demand. The various bottle gourd seeds are harvested between 60-70 days and stay fresh with a suitable storage facility.
Different varieties have a harvest gap of 3-4 days, so the picking must be active to avoid waste. The over-mature fruits are preserved for further bottle gourd cultivation. The session begins after 3-2 weeks of plantation and continues to around eight weeks for healthy and fresh produce.
FAQs
Q1. What are the different varieties of bottle gourd seeds?
– Here are the popular varieties of bottle gourd seeds:
Punjabi Barkat is Cylindrical, light green, and prone to mosaic disease.  

CO1 is a pale green color with a bottleneck body.

PKM is extra long fruit (180-200) cm.

Punjabi Komal is a roundish shaped fruit with green color.

Punjabi Bahar is round and green-coloured fruit.
Q2. How to control weed in the organic bottle gourd seeds?
– The racking and weeding of soil is a regular practice to boost the organic development of bottle gourd seeds. Use plastic or organic mulch for mulching the crops developing in raised beds. During the growth phase, keep the amount of weed in control.
Q3. What is the seed rate and spacing in bottle gourd seeds?
– Seed requirement is 0.5 kg/acre and provides spacing of 45-60cm between plants and 2.0-2.5 m between rows of plants.
Note: The information contained herein is for informational purposes only. Nothing herein shall be construed to be financial or legal advice. Pesticides are a considerable risk of loss in crops and viewers are advised to do their own research before making any decisions.