Shade net is a structure made up of  plastic, polyethylene sheet or any other woven material to grow plants in well-controlled climatic conditions. Growing Green Chillies in shade net has several advantages over the traditional cultivation in the open field.
Shade net Green Chilli farming is practised by many farmers as plants can be grown in well-controlled climatic conditions for higher yield. You might have many questions like what shade net is and  how it is made, so we will take you through it step by step. 
Table of Contents
Introduction to Chilli Farming (Mirchi) under shade net
Why shade net farming for chillies
Advantages of shade net farming
Soil requirement for shade net Green Chilli Farming
Propagation of Green Chilli in shadenet
Introduction to Chilli Farming (Mirchi) under shade net
Chilli is used worldwide for its spicy flavour. Different types of chillies are used in different dishes. Green Chilli belongs to the Solanacece family and is botanically called Capsicum frutescens (Scientific name).
Chilli is one of the important spices in the Indian kitchen. India is not only the world's largest producer of Chilli but also the largest consumer, and exporter. In India, green chillies are mainly grown in Maharashtra, Andhra Pradesh, Karnataka, and Tamil Nadu. 
Chilli is an annual herbaceous plant that has a tap root system with simple leaves. Chilli is packed with fibre, vitamin E, and vitamin C. The ingredients in chilli can reduce the sugar craving and help you in weight loss.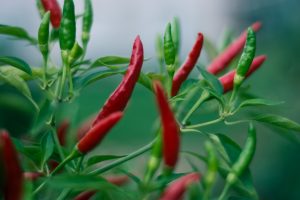 Let's know what is shade net
Before going to shade net Green Chilli Farming, we must understand what a shade net is. Shade net is a structure built up with plastic, polyethylene sheet or any other woven material to grow plants in appropriate micro climatic conditions.
Why shade net farming for chillies?
Green chilli is a tropical and subtropical plant that requires warm, humid, and dry weather in different phases of growth. It needs warm and humid weather during the growth phase but dry weather is appropriate for fruit maturity. 
In shade net, the temperature range of 25 – 27℃ is best for green chilli growth. If the temperature is 37℃ or higher, the fruit growth will be affected. Heavy rain causes defoliation and rotting of plants. In the case of low moisture conditions during the fruiting period, the bud will become deformed and it may also cause deflowering.
Hence, shade net is a good option for chilli farming and to earn more profit.
Advantages of shade net farming
Helps to protect crops from adverse environmental conditions.

Required amount of sunlight and moisture can be allowed

Increase in quantity and quality of produce

Protects crops from animals and birds

The quantity of water and fertiliser supplied to plants is controlled
Soil requirement for shade net Green Chilli Farming
Choosing appropriate soil for green chilli farming depends on the type of irrigation you adopt. If you grow rainfed crops then black soil is a good choice as the water retention is good. If you adopt other irrigation methods then, well-drained sandy loam with rich organic content is the best.
Water requirement
You have to water chilli plants only when it is needed as they cannot withstand water logging conditions. Overwatering chilli plants may lead to the shedding of flowers. The amount of water and frequency of irrigation depends on climatic conditions and soil type. 
Propagation of Green Chilli in shade net
To yield healthy Chillies, disease-free and good-quality seeds should be chosen for sowing. Rainy and extreme cold climatic conditions are not suitable for the seed germination and damage the quality of chilli seedlings. Thanks to shade nets, now we can grow chilli plants inside shade nets with less damage to the seedlings. 
The roofs of shade nets are built with plastic, polyethylene sheet or any other woven material. The framework of shade nets must be made of G.I.pipe.
Transplanting of Chilli
Before transplanting the seedlings to the main field, the roots should be dipped with any systemic fungicide or Trichoderma viridae solution for about half an hour. The seedlings can be planted at 75-90 cm (Row to Row) and 45-60 cm (Plant to Plant) spacing for better yield.
Pest control in Chilli plants
There are chances that the chilli plants get damaged from pest attacks or diseases like leaf curl, spots, cutworms, thrips, mites, branch rot, botrytis blight etc.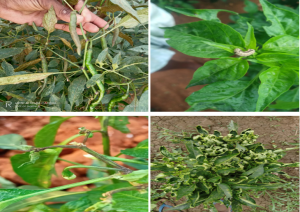 To manage the pest and diseases;
Make sure to use only well-rotten organic manure

Intercrop with onion/marigold as it keeps pests at bay. The trap crop should be planted 15-20 days earlier to the chilli crop so that the pests are attracted to the flowers of trap crops and do not damage the main crop.

Neem seed kernel extract can be used for controlling trips and mites

Install pheromone traps to control fruit borers
Harvesting Green Chillies
Generally, green chillies are ready to harvest in 90 days after transplanting. The best time to harvest is when the chillies turn green and glossy. You can harvest them by cutting them with scissors or a knife. 
What are you waiting for? Start your chilli cultivation now and yield healthy and fresh chillies.
Note: The information contained herein is for informational purposes only. Nothing herein shall be construed to be financial or legal advice. Pesticides are a considerable risk of loss in crops and viewers are advised to do their own research before making any decisions.